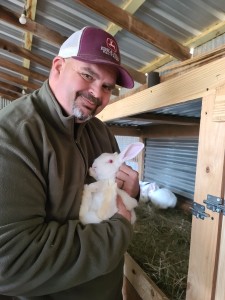 Aaron Robert "Big R" Arthur, gained his wings surrounded with loved ones on the 14th day of June 2022 at the age of 46. He was born January 11, 1976 in Athens, Tx to Karen and Joseph Arthur.
"Big R" enjoyed spending time with family and friends at yearly reunions or on the family farms. He loved and spent time with Madalynn, feeding and playing with the animals, doing something on the tractor, building his dream barndo, or working/fixing a motor of some kind. He was certified through many different companies and very knowledgeable about not only motors but welding, electrical, and classic car restoration. He also enjoyed working in the shop with one of his buddies "Tutu" where he used a variety of those skills.
Aaron is preceded in death by his mom, Karen Elizabeth Duernberger, and his uncle, Dudley Newbill. He is survived by his dad, Joseph Weldon Arthur, Fiancé and daughter, Michelle Arnett and Madalynn, Sister and Fiancé, Nomie Rebecca Storms and Marshall Christopher Tapley, Niece, Bayla Storms, Aunt, Ann Newbill, Special Family, Debbie and Tommy Arnett, several cousins and friends.
A memorial service will He heald on Wednesday, June 22, 2022 to begin at 10am- at Boren- Connor Funeral Home in Bullard.