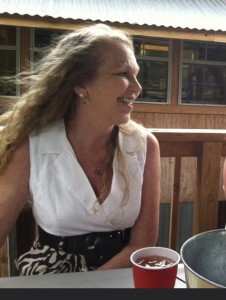 Easter "Lovie" Roddy, 62, of Flint Texas, passed away peacefully at home on June 6th 2022. Easter is survived by her children Amanda Gillaspy and Mathew Roddy, Grandchildren Jack Gillaspy, Emily Gillaspy, Max Gillaspy, Weston Schatzel and Ryleigh Roddy and siblings Terena Rogers, Jeffrey Robinson and Chris Robinson. Easter was born in Meridian Mississippi on April the 17th to TJ and June Robinson. She is joined in Heaven by her parents and siblings, Carla Wood, and Andy Robinson. She moved to Texas at the young age of 20 where she enjoyed her life to the fullest. She had a personality that was larger than life with a southern draw that will forever be in our hearts. She had a love for gardening and sharing plants with everyone she met. At last, we must not forget her best friends from all over the world. We are forever grateful for her friendships, turned into family. Her family would like to thank Cora, Lesa and Angie with Paloma Hospice for taking such great care of our mom and loving her just as much.
I'M FREE
Don't grieve for me for now I'm free,
I'm following the path God laid for me
I took his hand when I heard him call,
I turned my back and left it all
I could not stay another day,
To laugh, to love, to work or play
Tasks left undone must stay that way,
I've found that peace at the close of day
If my parting has left a void,
Then fill it with remembered joy
A friendship shared, a laugh, a kiss,
Ah yes, these things I too will miss
Be not burdened with times of sorrow,
I wish for you the sunshine of tomorrow
My life's been full, I've savored much,
Good friends, good times, my loved one's touch
If my time seemed all too brief,
Don't lengthen it now with undue grief
Lift up your heart, rejoice with me,
God wanted me now, He set me free.