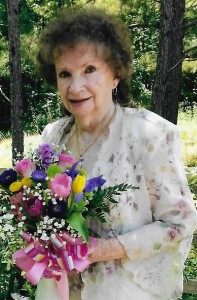 MILDRED "DEENIE'" GERALDINE PARKER DANIELS
Mildred "Deenie" Geraldine Parker Daniels, age 86, of Rusk, TX was called home on June 10, 2022, at her home in Rusk, TX. She was born October 24, 1935 to Arville and Janice Patton Parker in Moorehead, Kentucky. She was married to George L. Daniels, Jr. on July 28, 1951. They were married 48 years at the time of his death. She was the strongest, most amazing, generous, thoughtful, caring and giving person we have ever known. She thought of her family before herself. She would sacrifice her own needs so that her families needs were met. No matter how old you were, she still took care of you. She made each one in her family feel they were the most special in the world. When her children were small, she and George would do the Charleston and look just like the ladies on TV. During Christmas, she would make homemade candles for our teachers. She also drove her kids around in her Oldsmobile 98 to throw their paper routes. She raised her 5 children with limited resources and made sure each was well cared for. If you knew us, you know that was a major accomplishment. All of the childrens friends thought we were the luckiest kids to have a mom like her. She was the happiest cooking for her family. She would cook for two weeks for Thanksgiving to have all of her family together as her children grew up and had their own children. She left us with many wonderful recipes that will continue to be passed on. She then helped raise and love her grandchildren, great grandchildren and great-great- grandchildren making each of them feel as special as the other. She was always there to help and give advice no matter what situation would arise. Her greatest accomplishment in life was to have a very large and loving family which she was proud of each one. Anyone that knew her cherished her company and everyone who loved her will truly miss her presence in their lives.
Deenie was preceded in death by her husband, George L. Daniels, Jr., a son, Doyle J. Daniels, granddaughter, ThaSha Daniels, Great Grandson, Quinton Davidson,Great Granddaughter Brittany Campbell, sister, Betty Moore and brothers, Arville Parker, Jr. and David B. Parker.
She is survived by four sons and daughters-in-law, George Steven and Sue Ann Daniels of Rusk, Ronald and Cheryl Daniels of Rusk, Bryan and Debra Daniels of Bay City and David and Kimmi Daniels of Jacksonville, a daughter, Rhonda Passmore of Rusk, two sisters, Louise Jones of Rusk and Shirley Mylan of Alvin, 19 grandchildren, 47 great grandchildren and 21 great great grandchildren.
Pallbearers will be Todd Daniels, Joshua Daniels, Vernon Kimbrell, Christian Matheny, Tyler Daniels, Michael Campbell, Timothy Campbell and Brandon Campbell. Honorary Pallbearers will be Jeremiah Daniels, Bryan Daniels, Jr., Cecil Daniels, Logan Jackson, and Caden Bates.
Visitation will be Thursday evening from 6:00 P.M. to 8:00 P.M. at the Boren-Conner Funeral Home in Jacksonville. The funeral service will be Friday morning at 10:00 A.M. at Boren-Conner Funeral Home in Jacksonville with burial to follow at Walkers Chapel Cemetery in Reklaw, Texas.