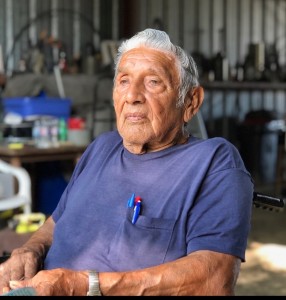 William Costello Martinez JR long time resident of Jacksonville Texas passed away from his earthly life June 15, 2022 at his home with family by his side.
William is survived by his daughters Tina Martinez (Danny Miles ) and Sara Hale.Grand children Chris(Corrie) Martinez, Connie, Bubba ,Tamera and Micheal Miles Lea and Pauline ,Diane Martinez (Jeff Alexander), Victoria, William , Ethan Martinez , Greg Martinez and Matthew Moore.13 Great grandchildren and Numerous Nieces and Nephews. Predeceased by his wife Ester in 1996, Daughter, Sandy 2009, Teresa 2014, Son Billy 2020.
William was born April 21,1938 in Gonzales, TX. William was a very devoted Father, Grandfather, Great Grandfather , Uncle ,Cousin and Friend. A plumber in Jacksonville for 60 plus years, Master plumber for 44 years. This man could tell you how the plumbing was on just about every house and City facility in Jacksonville by memory. He was still working jobs until April 2022. William was one of a kind , he was always a very hard worker and loved his family fiercely. He never met a stranger, always ready to give a helping hand. He never stopped working until he couldn't, even then he wouldn't sit still at home. If he was not fixing a leaking pipe or unclogging a drain, he was hauling off items to burn. He could out work a teenager. You could always count on him for a good fire if you stopped by. He loved to listen to his Sunday church service on the radio followed by visits and one on one time with Chris and all the special love and cook to order meals from Tina. He was a baby hog, if there was a baby around he was going to be holding and loving on it. You could always count on him for a good laugh with his crazy sayings. William will forever be loved and missed by his family and friends.
A Funeral Service is scheduled for Wednesday June 22,2022 at 1pm in Bullard Texas At Boren-Conner.
The Family would like to Thank Heart to Heart Hospice Natalie, Jeff, Ray and Elaine for all of the love and support.